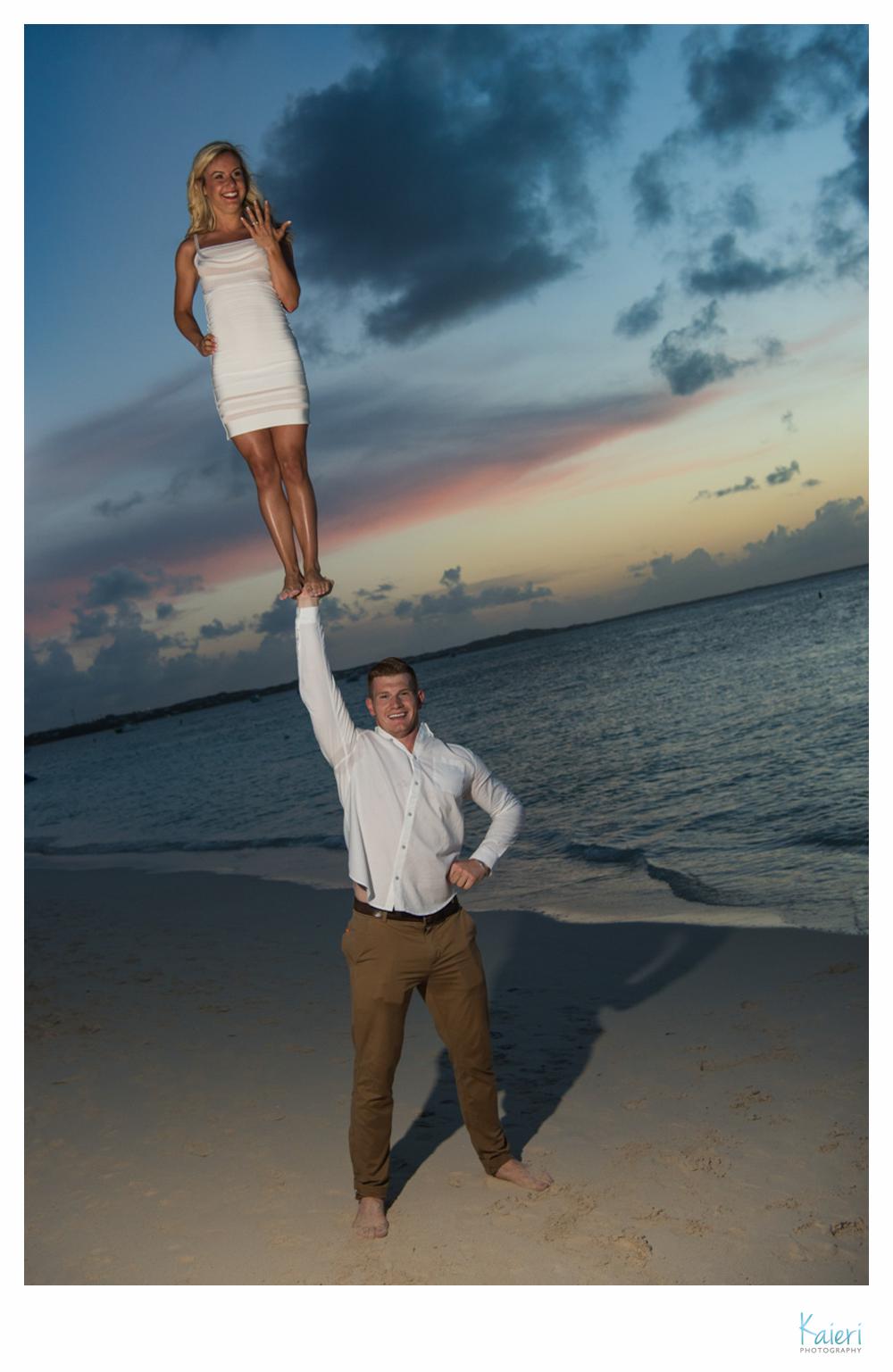 07 Jul

Engagement picture that went Viral at the Palms, Turks and Caicos Islands

Last Week an image that I captured at the Palms on the beach here in the Turks and Caicos went VIRAL. It was originally posted by the lovely couple Adam Sunderhaus and Ashley Vennetti who had been dating since 2013 and were here in the Turks and Caicos for the third time on a family vacation and also a secret proposal that Adam had arranged.

The image was originally posted on their Facebook page on the evening of their surprise engagment and then shared by the University of Kentucky cheerleading Facebook page. Adam called me after the intial proposal session to tell me it had gone viral and reporters from Inside edition, cosmopolitan, and even ESPN had been trying to contact them to get the story and determine whether the image was real or was photoshopped.

The Image (see at the bottom of this post)  which shows Adam lifting Ashley whilst she flashes her engagement ring is called a  "cupie" and is quite common in the cheerleading world apparently.  It was taken at the end of the session and I had no idea that they were former cheerleaders or even what to expect when they asked me to shoot one last photo.

As you can imagine I was quite surprised and almost forgot to press the shutter on my camera when I watched Adam lift Ashley and hold her in one hand pretty impressive. Normally with a surprise proposal I suggest that a normal photoshoot be arranged and then mid shoot the question is asked, however for this proposal myself and Adam had arranged a location exact time and all the logistics so that Ashley would have no Idea even though the night before the session I had a separate family portrait session at the Palms and walked right past the both of them in the front lobby, head down as I obviously couldn't say hi to Adam. The palms had setup a heart, shaped out of conch shells on the beach which whilst Adam and Ashley were on their evening walk I had to fend of kids and other tourists alike from destroying it whilst taking their own pics within the heart. As Adam approaced I slowly walked towards them pretending to shoot a pelican to try and stay low key until Adam finally dropped down to one knee to drop the question.

However unique the Viral photo was, their engagement was not about that one photo and we had arranged to meet for another session so I could carry them around the Island and show them some different locations whilst taking some fun pictures.

I picked them up from the Palms and we set off to our first stop after being pulled over by a police officer briefly (New Car, no Sticker). After a brief pit stop we carried on to Chalk sound which has the most amazing colors in the Turks and Caicos Islands, see below for yourself.

From Chalk sound we headed to an area called Blue Hills for a shot between the palm trees, and some lunch and a few (pitcher) rum punches at Da Conch Shack. Whilst at Da conch shack they have a addictive game called Ring Toss which I find impossible as did Adam, however Ashley nailed it just to rub it in her fiancés face.

Next stop Melt in Grace bay. Melt is a quirky little ice cream and champagne lounge, which not only serves great ice cream but also random knick knacks and artsy little pieces. Whilst Adam and Ashley ordered some ice cream to share I searched around the place to see what I could find to stage some sort of ring shot. Basically two colored boxes.

After melt the next stop was Grace Bay beach to capture the different shades of Turquise that the Turks and Caicos is most Famous for. My favorite spot is a beach located up in leeward which is normally less crowded and has some cool rock formations to shoot the colors at mid day are amazing but the shadows and the heat not so much.

 We obviously had to reenact the Picture that went Viral

After the beach we all went our separate ways to freshen up and prepare for another sunset shoot at the Palms. I love taking shooting at the Palms so many great locations within the grounds as well as the beach.

And Last but not least, The Image that went VIRAL. And YES it is real, Im too lazy to photoshop to that extent. Thank you Adam and Ashley for being a awesome couple to photograph and congratulations, I wish you all the best, and will see you next time your here in the Turks and Caicos for a few more RUM punches.

You can see some of the links that showed the image online.